Sonja Alhäuser: Cupido
Drawings, Sculptures and Pastries
22.11.2020 – 04.07.2021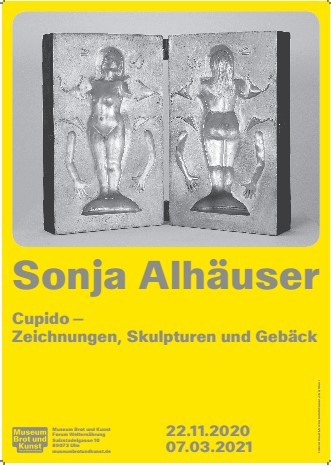 Berlin artist Sonja Alhäuser's work deals with sensuality, seduction, and baroque opulence, and expresses the desire to hold on to moments of abundance and fulfillment. That's why she likes to work in luxuriant, edible media such as butter, marzipan, or chocolate, from which she forms sculptures. She also performs staged banquets and creates multi-figured food drawings full of wit and levity.
The Museum of Bread and Art is currently exhibiting works from Alhäuser which explore bread and pastries, as well as the rituals and symbolism associated with them. Sonja Alhäuser has created a series of new works which were made in dialogue with extant objects from the museum's collection - including the extensive collection of valuable models. She plays with the traditional meanings that resonate in bread and overlays them with new contemporary images, rituals, and interpretations.
Finally, Sonja Alhäuser has also designed a multiple for the Museum of Bread and Art: a "Putto", which can be purchased in the gift shop.