60×60
International Film Collage
02.07.2022 – 14.10.2022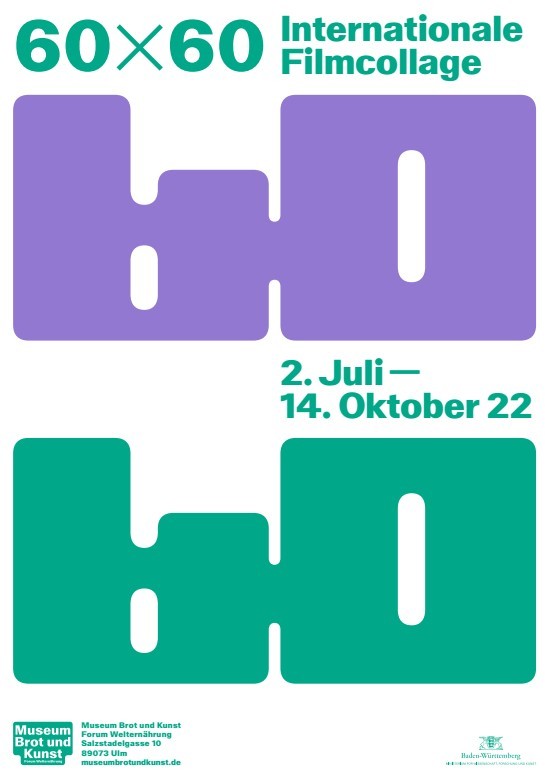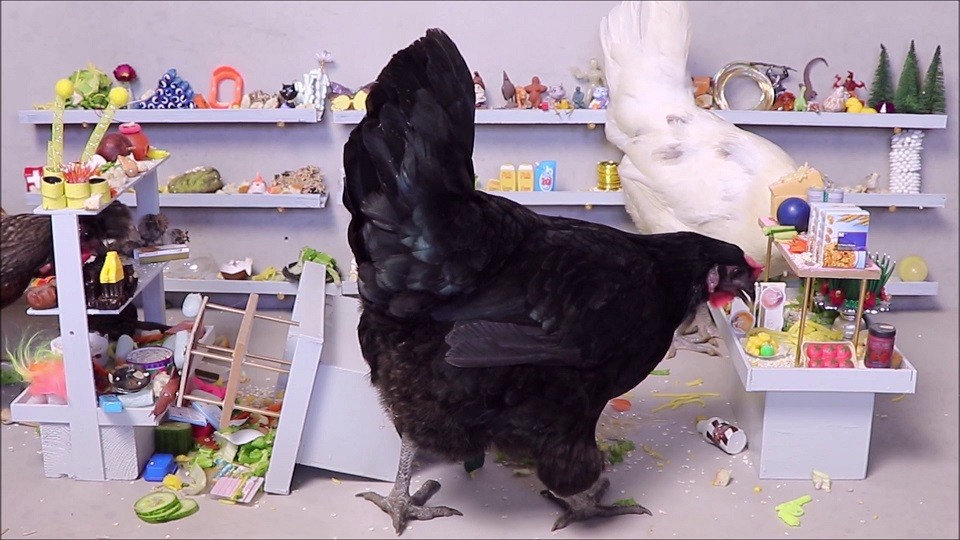 "60×60" is a global film project that combines 60 short films of 60 seconds each (rough guideline) by artists from a wide range of countries and cultures. The overarching theme is food, in both political and cultural contexts. The curation team, Dr. Isabel Greschat, Dr. Ella Platschka (both from the Museum of Bread and Art) and Cora Schönemann (freelance artist, curator, and event organizer) conducted intensive research and contacted many artists, facilitators, and influencers. Thanks to a wealth of submissions, the curation team was able to assemble a selection marked by very diverse perspectives, approaches, and aesthetics. Renowned artists such as Shahar Marcus, Elia Nurvista, Gerda Steiner & Jörg Lenzlinger, Anahita Razmi, and Koen Vanmechelen are participating in the project – but also up-and-coming artists such as Onno Gaissmaier and Tobi Akinde. The short films will comprise a video collage approximately 100 minutes in length.
Subject matter includes global phenomena such as packaging and industrial food production - Böller und Brot, for example, portray children in their own kitchen trying to recreate highly processed snack food items as faithfully as possible to the ingredients on the package. The collective Neozoon has created a disturbing montage using found footage. Youngbin Noh and Anna Mönnich/ Mark Klawikowski explore trends such as food porn and mukbang. Aldonza Contreras Castro, on the other hand, has gone in the opposite direction: in her film "Suficiente," she celebrates a communal meal consisting of a simple potato. And Uhunoma tells the story of a girl in a slum who dreams that she is rich and beautiful and surrounded by delicious food.
Meat plays a role in several contributions. In Nezaket Ekici's work, it takes the form of various pig body parts, which the artist handles, some tenderly, some distantly. Peter Miyalu Nzodisa addresses the colonial tradition of meat processing, and in Rémy Markowitsch's work, too, the chopping blades and orchestrating hands of a butcher signal pride and perhaps even power. In contrast, Maho Irigoyen celebrates a collective of women who live self-determined and self-sufficient lives, growing vegetables, cooking with and for each other, and in this way resisting the culture of male violence.
Violence and war are the subjects of other clips as well. In Shahar Marcus' film "Seeds," the artist sows grain in fields formerly littered with landmines; in Alla Georgieva's contribution, a toy tank takes on a life of its own on top of a table set for a peaceful family meal, leaving a battlefield in its wake.
Funny contributions (such as that by Valentino Berndt, whose hunter-gatherer makes use of a modern-day drone) and conciliatory tones (such as Jennifer Skarbnik Lopez's family cookbook, which brings back childhood memories) can also be found in the collage.
"60 x 60" will be on display in the museum from July 2nd through October 14th, 2022.
It is possible to stream the film online: https://vimeo.com/727669930
Closing Event
October 14th, at 7 PM
Presentation of the videos created in the workshop
with honey & bunny (Vienna, A)
Screening of excerpts from the "60x60" film collage
Vienna Impressions with DJ Nico Bulla
The project is funded by the Baden-Württemberg state program, "Art Despite Distance" and additional funding is provided by the Friends of the Museum of Bread and Art (Förderverein Museum Brot und Kunst e.V.).
Participating artists -
Tobi Akinde (Nigeria), Rowan Aldib (Egypt), Suzanne Anker (USA), Hend Bakr (Egypt), Tino Baumann (Germany), Valentino Berndt (Mexico/Germany), Böller und Brot (Germany), Birgit Bornemann (Germany), Alex Boya (Canada/Bulgaria), Johannes Büttner (Germany), Aldonza Contreras Castro (Mexico), Rodrigo Courtney Alejandre (Mexico), Søren Dahlgard (Denmark), Jaqui Dresen (Germany), Nezaket Ekici (Turkey/Germany), Tomas Espinosa (Columbia/Germany), Alex Frost (GB), Kasia Fudakowski (GB/Germany/Poland), Onno Gaissmaier (Germany), Alla Georgieva (Ukraine/Bulgaria), Andrea Godínez (Mexico), Grieta Cine de Raiz (Mexico), Tang Han (China/Germany), Marc Hautmann (Germany), Honey & Bunny (Austria), Maho Irigoyen (Argentina/Mexico), Ebba Jahn (Germany), Birgit Johnsen (Denmark), Koko Byamungo Kabamba (Congo), Mark Klawikowski (Germany), Steffen Köhn (Germany), Isabelle Konrad (Germany), Pia Maria Martin (Germany), Shahar Marcus (Israel), Rémy Markowitsch (Switzerland), Peter Miyalu Nzodisa (Congo), Anna Mönnich (Germany), NEOZOON (Germany), Hanne Nielsen (Denmark), Youngbin Noh (South Korea/Germany), Elia Nurvista (Indonesia/Netherlands), Gerard Ortín Castellví (Spain), Anahita Razmi (Germany), Krišs Salmanis (Latvia), Moritz Schinn (Germany), Marco Schuler (Germany), Kalin Serapionov (Bulgaria), Jennifer Skarbnik Lopez (Mexico), Gerda Steiner und Jörg Lenzlinger (Switzerland), Tadasu Takamine (Japan), Kyoko Takemura (Japan/Germany), Wana Udobang (Nigeria/GB), Uhunoma (Nigeria), Andreas Usenbenz (Germany), Koen Vanmechelen (Belgium), Farzane Vaziritabar (Iran/Germany), Ance Vilnîte (Latvia), Gabrielle Zimmermann (Germany)